Close your eyes. Dream of the ultimate aquarium combo. High-end display tank, innovative design, twin glass canopies with color-enhancing fluorescent lighting.Now pair that vision with a contoured display stand that matches it for sheer attention-getting magnetism.. .dramatically complements its distinctive lines and peerless quality construction. The value-added plus?A stylishly functional cabinet storage area and your choice of finishes.
90-Gallon SURFLINE Display Aquarium
48" Double Bright Fluorescent Lighting
Custom Contoured Display Stand with Spacious Storage Area
Twin Glass Canopies
THAT'S THE SURFLINE 90
- THE TIDE OF THE FUTURE
IN AQUARIUM AND STAND DESIGN.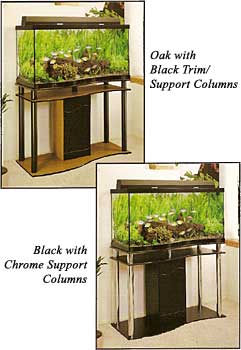 SPECIFICATIONS:
Aquarium Dimensions: 48" L x 19" W x 24" H
Stand Dimensions" 48 1/2" L x 19 1/2" W x 34" H
Open Stock Item

Item #
UPC
SURFLINE90-Gallon Aquarium
81005
04749781005-7
SURFLINETwin Glass Canopies
36600
04749736600-4
48" Double Bright Fluorescent Lighting
32488
04749732488-2
SURFLINEStand Black/Chrome
89700
04749789700-3
SURFLINEStand Oak/Black
89710
04749789710-2

WHAT CAN WE DESIGN FOR YOU?